Important Announcement: Labor Day Break Schedule This is a quick reminder that school will be dismissed on Tuesday, August 29, at the regularly scheduled time. Students will enjoy a well-deserved Labor Day break from August 30 to September 4. We hope this break allows everyone to rest, recharge, and to return ready to learn. Have a safe and enjoyable break, and we can't wait to see you back in class on September 5!
The Wynne High School Guidance Department will present Senior Orientation Night on Wednesday, August 30, at 5:30 PM in the WHS Arena. Session discussions will include college admissions, financial aid, college entrance examinations, College Planning Night, and other important topics. Six-semester grade point averages and class rank will be distributed at the session. All seniors and their parents are urged to attend.
Wynne High School parents and students, there is a change of location for Parent/Teacher Conferences.​​ High School Parent/Teacher Conferences will be on Thursday, August 31, from 1 PM-7 PM on the Wynne High School campus​ in Yellowjacket Arena.
Livestream QR Codes for Yellowjacket Football!!!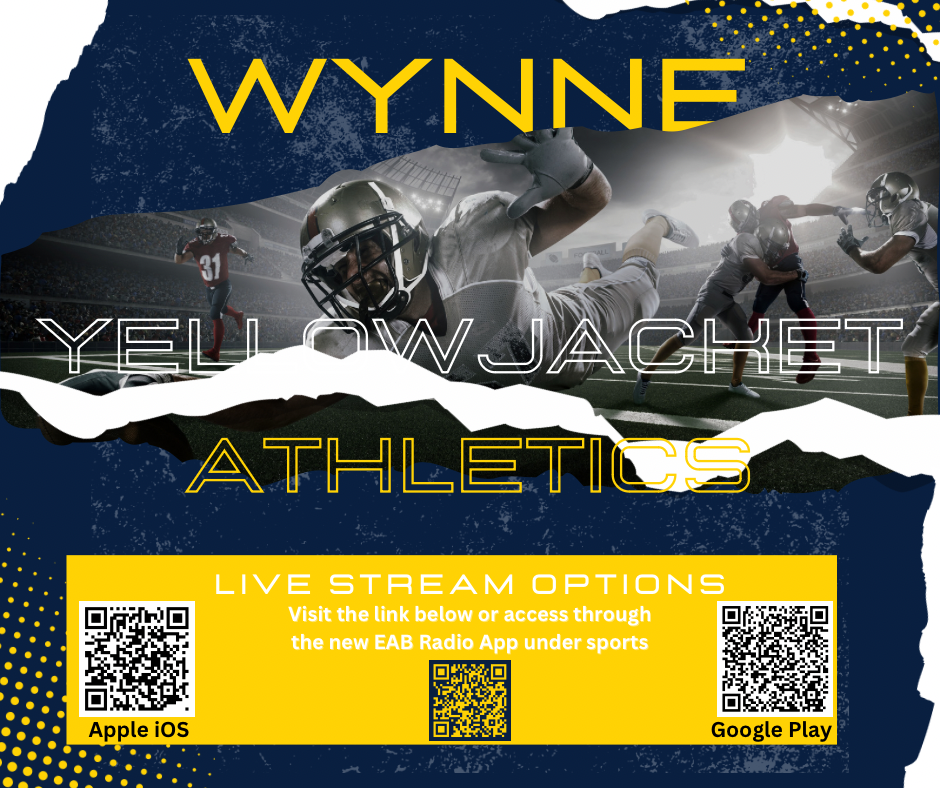 ATTENTION SOPHOMORES AND JUNIORS: The PSAT test will be administered on Wednesday, October 18th. This is the test that qualifies 11th graders to compete for the National Merit Scholarship. Taking the exam is also a great way for 10th graders to practice before their Junior year. The deadline to sign up and pay the $18.00 fee is Thursday, September 7th. Please pay Mrs. Brandi Taylor or Mrs. Lisa Turner in order to be able to take the test.

Congratulations to Charlie Davis for being selected to serve as the Arkansas FBLA District II Middle Level Secretary.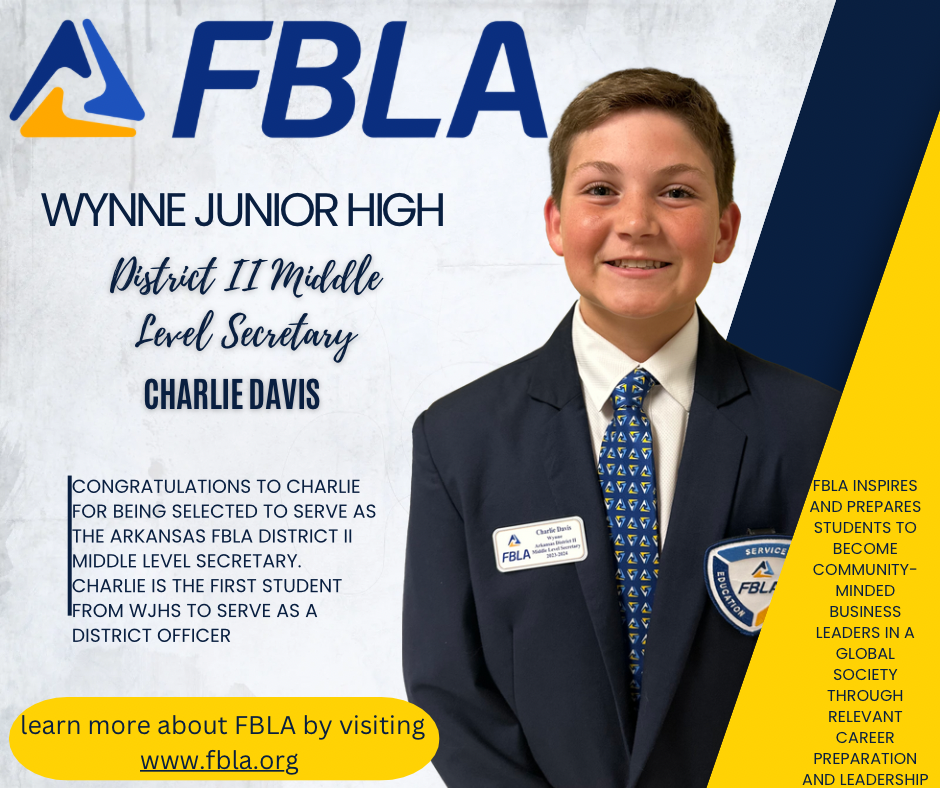 Our friends at the East Central Arkansas Regional Library have asked us to share their calendar of events for this month. You can learn more about their programs by going to their website at
https://www.ecarls.org/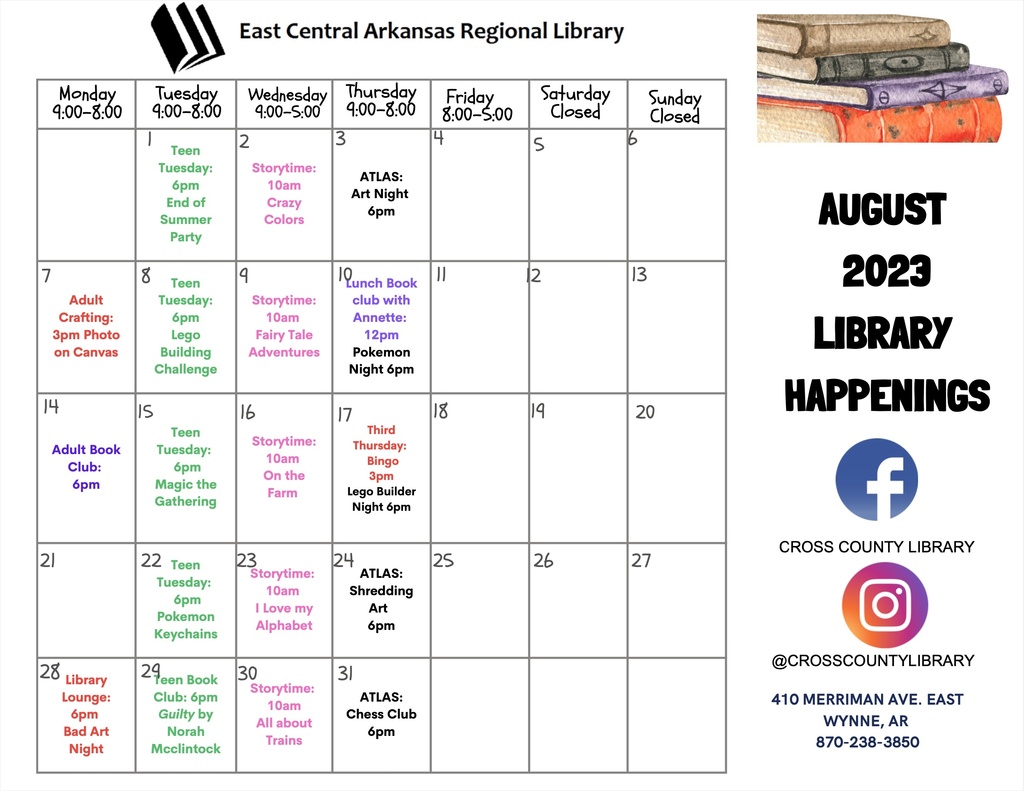 Bus #1 will be transporting students for Bus #12 beginning this afternoon. These students will ride Bus #1 until August 17th.
Transportation Update for August 10th and 11th-- We would like to inform you of a transportation update for Thursday, August 10th, and Friday, August 11th, for students who ride Bus #14. On these days, all Jr. High students who typically ride Bus #14 will instead be riding Bus #64. Bus #64 is expected to arrive at approximately 3:30 - 3:35 p.m., followed by Bus #14 arriving at approximately 3:40 - 3:45 p.m. To ensure a smooth transition, we kindly ask that you make arrangements to pick up your students at the appropriate time at Colt Baptist Church in Colt, Arkansas.
The FAFSA will NOT OPEN on October 1. The 2024-2025 FAFSA for 2024 Seniors will open in mid-December. The U.S. Department of Education has not yet released the open date. Stay tuned for more information.
Wynne Junior High welcomes Sabrina Jumper!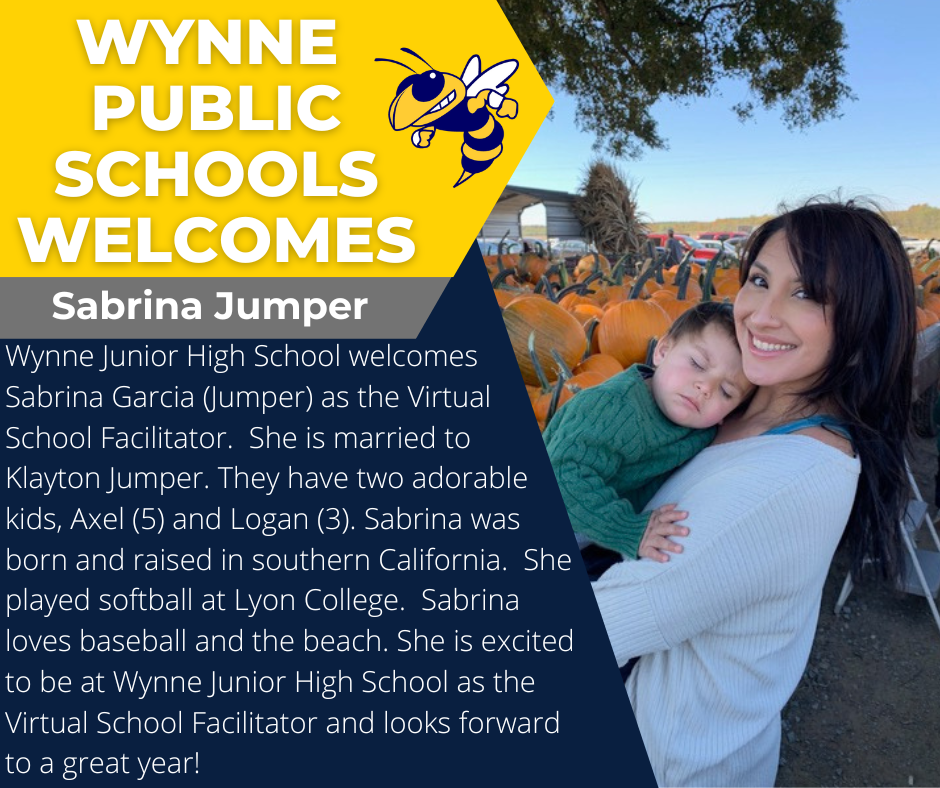 Wynne Intermediate School welcomes Madeleine Valentine!
Wynne High School welcomes Chris Jones!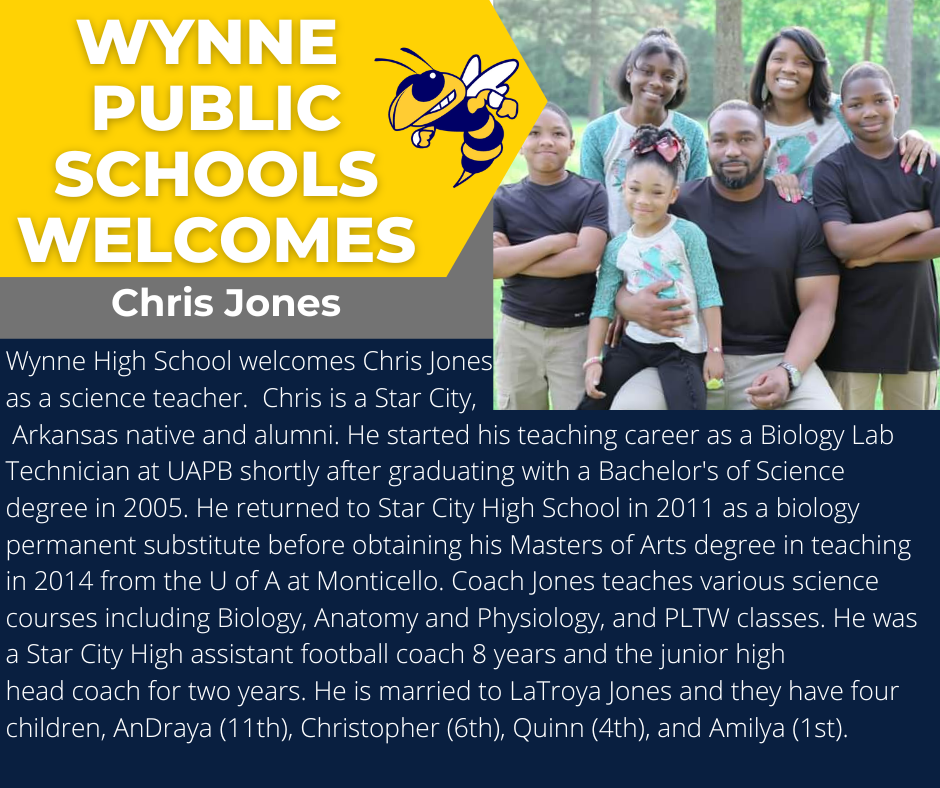 Wynne Primary welcomes Addy Thornhill!